DJ Cuppy reacts after being body-shamed over her new photos
AD
ATTENTION 🚨🚨(READ ME!!) CLOSE ALL ADS POPPING UP TO DOWNLOAD MOVIES FOR FREE...IF YOU ARE REDIRECTED, CLOSE THE TAB TO CONTINUE WHERE YOU STOPPED
It can be recalled that some time ago, the sensational DJ took to social media to ask her fans and followers for their honest opinion about her look if they indeed considered her to be the most beautiful girl in Nigeria, of which she got a lot of love and goodwill from many of her fans.
Flashback to the present, DJ Cuppy shared some adorable photos of herself as she relocate to Dubai for her vacation.
As many of her fans once again gushed over her sensational look, a troll decided to make an unworthy comment about her look and sense of posture.
"The face and the rest of the body color don't match. Legs like an athlete, bloated tummy like a pregnant woman, excess fat on the upper body". The troll wrote.
In response to this, DJ Cuppy did what others would call imaginable as she responded with hugs and kisses instead of a hardcore lambast as others thought.
See the exchange below;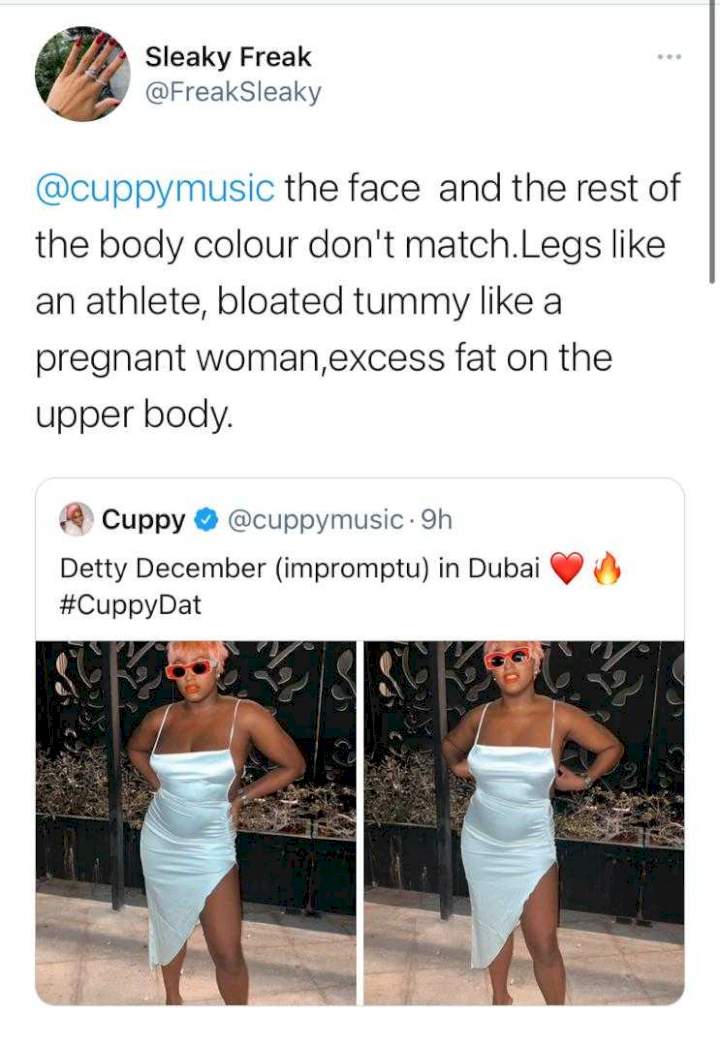 ATTENTION 🚨🚨(READ ME!!) CLOSE ALL ADS POPPING UP TO DOWNLOAD MOVIES FOR FREE...IF YOU ARE REDIRECTED, CLOSE THE TAB TO CONTINUE WHERE YOU STOPPED
Popular Yoruba actress, Kemi Afolabi has denied reports that she dumped Islam to seek heal…